I really loved the Garlic Rice I recently made so I decided to make it again but this time added a little pizazz to it by adding sautéed onion, sun dried tomatoes, toasted pine nuts, and fresh parsley. It turned out delicious. I loved the flavors and textures the different ingredients gave to this dish. It was a big hit with my husband and I but both of our kids  said they like plain rice better – you can't win them all!  This rice paired nicely with the chicken thighs and broccoli I served for dinner.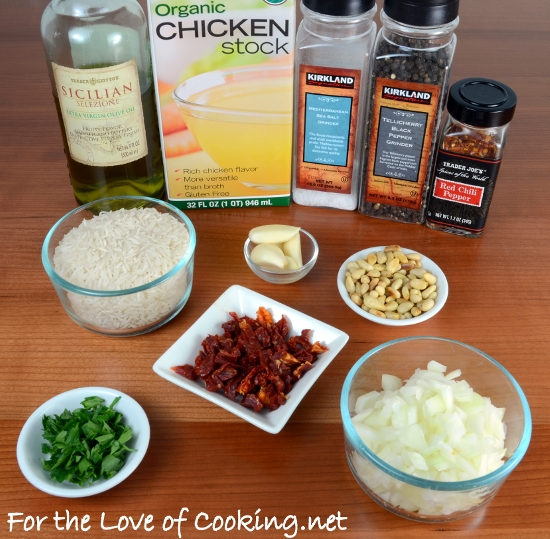 To toast your pine nuts, heat the same pot you will cook your rice in over medium-low heat. Add the pine nuts to the DRY pot (you don't need oil) and cook, stirring often, until golden brown, about 3-4 minutes. Remove from the pot and set aside.
Heat the half of the olive oil in a pot over medium heat. Add the diced onion and cook, stirring frequently, for 3-4 minutes or until tender; add the sun-dried tomatoes and crushed red pepper flakes, then cook, stirring often, for 2 minutes. Pour into a small dish and set aside. Add the remaining olive oil to the pot then add the minced garlic and cook, stirring constantly, for 1 minute. Add the rice and cook, stirring often so the rice doesn't stick to the pan, for 3-4 minutes. Add the chicken broth and season with sea salt and white pepper, to taste. Bring to a boil then reduce heat to medium low. Cover with a lid and let it cook for 20 minutes.
Remove the rice from the burner without removing the lid and let it sit for 5 minutes. Carefully remove the lid and fluff rice with a fork. Add the onion and tomatoes along with the toasted pine nuts and chopped parsley then season with sea salt and white pepper, to taste; stir until well combined and serve. Enjoy.