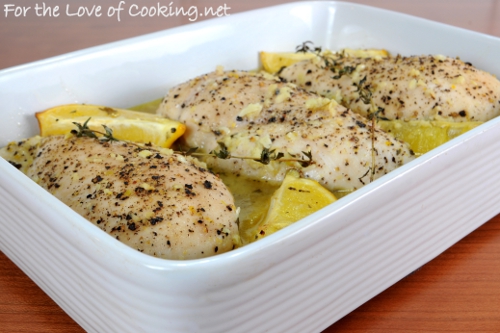 I have seen a few recipes for the Barefoot Contessa's lemon chicken floating around the web recently and the recipe looked so good I had to make it.  I adapted it a bit by using skinless chicken breasts and I used chicken broth instead of wine because that is what I had on hand.  The dish was very simple to put together and it smelled amazing while it baked.  I basted the chicken breasts a few times while they were in the oven so they would stay moist.  The meat turned out really tender, moist, and so delicious. I really loved the lemon flavor.  Both of my kids liked it and so did my husband.  A quick and simple recipe – perfect for a weeknight!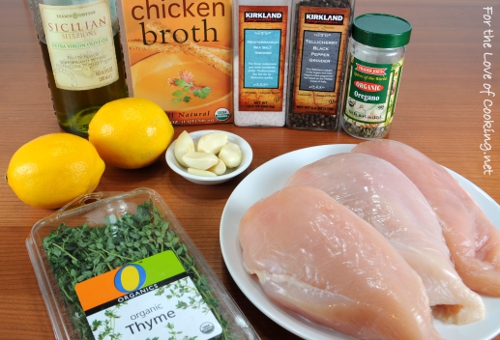 Preheat the oven to 400 degrees.  Coat a baking dish with cooking spray.
Heat the olive oil in a skillet over medium heat; add the minced garlic and cook, stirring constantly, for 1 minute, making sure not to burn the garlic.  Add the chicken broth, lemon zest,  lemon juice, oregano, and thyme leaves to the pan.  Pour the mixture into the baking dish.  Season both sides of the chicken breasts with sea salt and freshly cracked pepper, to taste.  Place the chicken in the baking dish along with the lemon wedges and the two sprigs of thyme.
Place into the oven and bake, basting occasionally,  for 30-40 minutes or until the chicken is cooked through and the juices run clear.  Remove from the oven and let the meat rest for 5 minutes before slicing.  Drizzle the pan sauce on top of the slices of chicken and serve.  Enjoy!