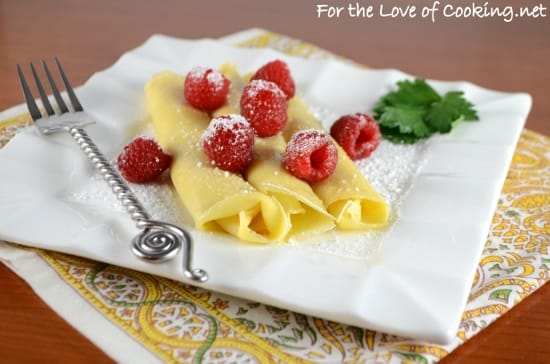 My daughter asked if I would make crepes for breakfast this morning. I normally just serve butter and powdered sugar on our breakfast crepes but I decided to try something different this time. I  grabbed the leftover Lemon Curd and some fresh raspberries out of the refrigerator and thought they would make delicious toppings for the crepes. My family slathered their crepes in lemon curd, rolled them up, tossed some fresh raspberries on top then sprinkled them with powdered sugar. These crepes were a huge hit & disappeared quickly. This is a quick and simple recipe but tastes gourmet and delicious – it is a wonderful breakfast treat but would also make a delicious dessert.
Combine all ingredients in a large bowl; use immersion blender (or whisk) to mix crepe batter thoroughly. Make sure there are no lumps in the batter.
Heat a small nonstick pan over medium heat. Spray with cooking spray and using a small ladle, spoon about 3-4 tablespoons of crepe batter into the hot pan. Tilt the pan clockwise so that the batter spreads evenly over the bottom of the pan. Cook for 30 seconds to 1 minute per side; flip and cook for 10 seconds then remove from pan. <em>Side Note: Most people only cook one side but I cook both.</em>
Spread some lemon curd over the bottom of the crepe then roll. Sprinkle the top with raspberries and powdered sugar. Serve immediately. Enjoy.