I'll be honest with you. I am ready for fall weather and cooking! There is something so wonderful about a roaring fire on a rainy day while dinner is roasting in the oven. Even though it was warm outside today, I decided to roast our dinner. I made chicken, potatoes, and these veggies. Our entire dinner was made by what I had on hand so I didn't have to go to the store – I love that! I had some beautiful heirloom tomatoes that I picked up from the farmer's market this weekend, some asparagus that needed using up, a 1/4 of an onion, and fresh green beans from my friend's garden. I tossed them in some good olive oil then seasoned them with sea salt and freshly cracked pepper, to taste. Once they were nearly roasted, I tossed them with a bit of minced garlic and continued to roast for a few minutes to prevent the garlic from burning. The green beans, asparagus, and onion were crisp-tender while the tomatoes were sweet and juicy. My kids drizzled balsamic vinegar on top to make them extra tasty. These veggies were delicious and disappeared quickly.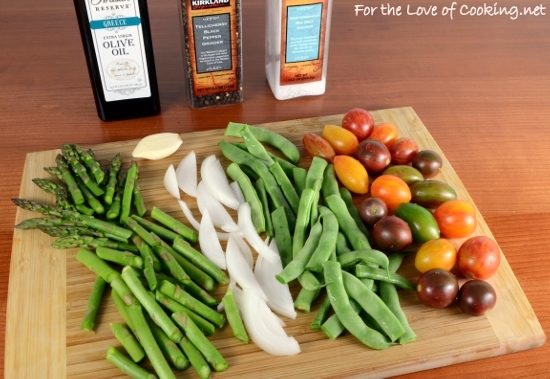 Preheat oven to 400 degrees. Line a baking sheet with tin foil then coat with cooking spray.
Place the veggies on the prepared baking sheet. Drizzle with the olive oil then season with sea salt and freshly cracked pepper, to taste; toss to coat evenly.
Place into the oven and roast for 13 minutes. Remove from the oven and toss with minced garlic. Place back into the oven and roast for 2 minutes or until done. Remove from the oven and serve immediately. Enjoy.