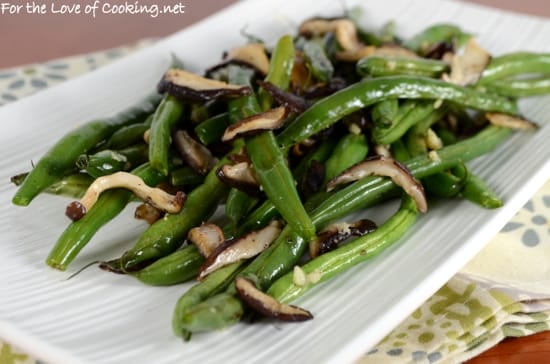 I have been loving shiitake mushrooms lately and had a serious craving earlier this week. I decided to roast some green beans with shiitake mushrooms and garlic for a simple yet tasty side dish that paired beautifully with the Shrimp Stir Fry with Asparagus and Grape Tomatoes and the Sesame Garlic Basmati Rice. We all enjoyed this side dish – especially me.
Preheat oven to 400 degrees. Line a baking sheet with tin foil then coat with cooking spray.
Toss the green beans and shiitake mushrooms with olive oil then season with sea salt and freshly cracked pepper, to taste.
Place into the oven and roast for 10 minutes. Flip the veggies and add the minced garlic making sure to toss to coat evenly with a spatula. Continue to roast for 3-5 minutes. Remove from the oven and place on a serving plate. Serve immediately. Enjoy.