Asparagus and Tomato Sauté with Balsamic and Feta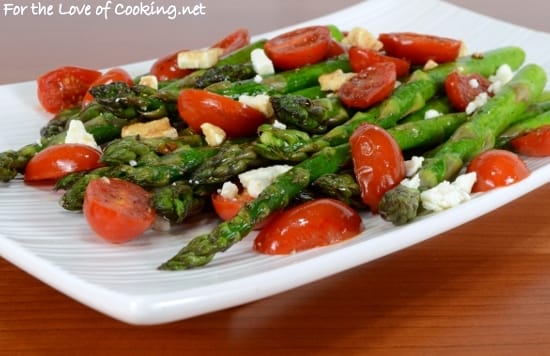 We eat a lot of asparagus around here this time of year. I decided to do a quick sauté with the asparagus spears and grape tomato halves until crisp-tender. I drizzled the top with a really good balsamic vinegar and feta cheese crumbles. It was delicious, healthy, and it paired nicely with the Spicy Roasted Chicken Drumsticks and the Basmati Rice with Garlic, Pine Nuts, and Fresh Parsley.
Heat a large sauté pan with olive oil. Add the asparagus spears then cook, stirring occasionally for 4-5 minutes (longer if the asparagus is really thick – shorter if they are really thin), until crisp tender. Add the grape tomato halves and cook for 2 minutes. Season with sea salt and freshly cracked pepper, to taste. Place the asparagus and tomatoes on a serving plate then drizzle with a good balsamic vinegar, to taste, then top with feta cheese crumbles, to taste. Serve immediately. Enjoy.