This was honestly one of the best meals I've had in a long time. Maybe because it was comforting on a cold rainy day. Maybe it was because I cooked it all in one pot and barely had any dishes to do. Maybe because simple food really is the best food. Whatever the reason, I will be making this meal again and again. This was a simple, no fuss, no muss, delicious meal! I love that.
Preheat the oven to 375 degrees.
Heat the olive oil in a large OVEN PROOF Dutch oven over medium high heat. Remove any excess fat from the thighs then season both sides with sea salt, freshly cracked pepper, and garlic powder, to taste. Place the chicken, skin side down, in the hot pan. Cook for 6-7 minutes or until the chicken is golden brown. Carefully, tilt the pan and remove all the oil (this will make the dish healthier and also will prevent the veggies and chicken from being greasy). Once all the oil is gone from the pan, flip the chicken over and move over to one side of the pan. Add the asparagus and grape tomatoes to the other side of the pan then season lightly with sea salt and freshly cracked pepper, to taste. Place into the oven and cook for 25 minutes, or until chicken has cooked through.
Remove the pan from the oven and serve immediately. Enjoy.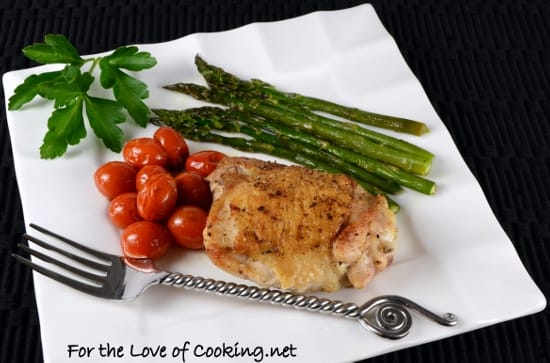 BUTTERBALL COUPON GIVEAWAY ***GIVEAWAY CLOSED – WINNER ANNOUNCED***:
The generous people at Butterball have offered two $20.00 checks, one each for two of my lucky readers, to help with purchasing your turkey and items to complete your holiday meal. The Butterball site is full of delicious recipes to help with your Thanksgiving meal. Be sure to checkout their Facebook page for ideas too. All you need to do to enter the giveaway is leave a comment on this post.
The giveaway is open until Sunday, November 10, 2013 @ 7:30 p.m. This giveaway is open to USA residents only. Be sure to include an e-mail address with your comment. Winners will be chosen randomly and announced on Sunday night. I will email the winners and if the winners do not respond within 48 hours, new winners will be chosen.
Good luck!!!