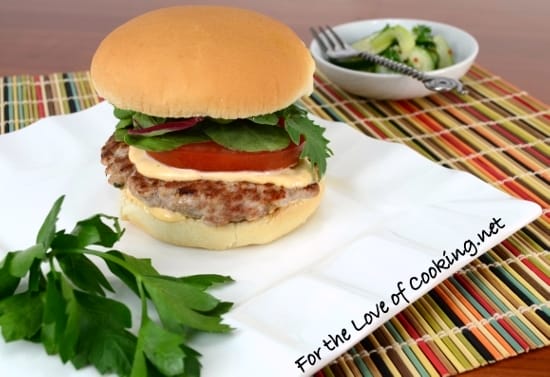 Amazing. I seriously love these burgers. I found this recipe on Tracey's Culinary Adventures. The turkey was juicy and tender and it tasted great with a thick slice of tomato and avocado along with mixed greens. I think one of the main stars of the show was the sriracha lime mayonnaise – the flavor combination was awesome with the burger! My husband really loved these burgers and the kids thought they were pretty good too. I served them with a cucumber salad and Asian Quinoa Salad for a delicious and healthy meal.
Side Note: Make sure to use ground turkey with dark & white meat not plain ground turkey breast. The burgers will be juicy and more flavorful.
Combine the garlic, ginger, green onions, cilantro, soy sauce, rice wine vinegar, and sesame oil to a large bowl and stir to combine. Add the ground turkey and use your hands to gently mix. Divide the mixture into 6 balls then form each one into a patty.
Prepare the sriracha lime mayonnaise by combining the mayonnaise, sriracha, lime zest, and lime juice together in a bowl. Mix until well combined. Set aside.
Heat a large grill pan coated with cooking spray over medium-high heat. Cook the burgers for about 4 minutes per side, or until they are cooked through.
Place the burger on a bun with a bit of spicy mayonnaise on it. Top the burgers with a little more of the spicy mayo, tomatoes, mixed greens, and avocado followed by the other bun. Serve immediately. Enjoy.