I served this fruit salad with the spicy Asian Chicken Sandwiches I made for dinner recently and they paired nicely together. The sweet and juicy fruit salad cooled down our mouths after bites of the spicy sandwich. I loved this combination of fruit together. The sauce was a combination of orange and lemon juice & zest along with some brown sugar and vanilla. It reduced down to a very flavorful sauce that topped the fruit perfectly. We all, kids especially, loved this fruit salad.
The giveaway information is at the bottom of this recipe. Congratulations to the winner!!!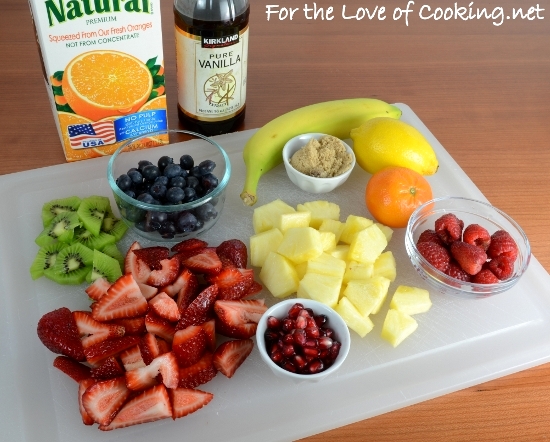 Heat a small saucepan over medium heat. Add the brown sugar, orange juice, lemon juice, clementine zest, lemon zest, and vanilla. Cook, stirring often, for about 5 minutes. Set aside and let it cool down completely.
Prepare the fruit and combine it in a large bowl. Once the citrus vanilla sauce has cooled down, drizzle on top of the salad, to taste. Toss gently and serve. Enjoy.
Giveaway Winner:
The winner of the Knotty Daughter apron giveaway is comment number 76:
Anna — April 28, 2013 
I've already bookmarked this recipe — it looks amazing! I've tried many of your recipes and none has ever failed me. Thank you so much!
Congratulations! Please visit their website and pick out the apron of your choice then e-mail me the chosen apron and your mailing address. Please get me this information as soon as possible so Knotty Daughter can send you your new apron.