I was recently sent a copy of  My Recipes America's Favorite Food (see information about the giveaway at the bottom of this post) that is filled with delicious recipes from several of the country's best magazines.  I found a recipe for chicken breasts that sounded simple yet gourmet. I loved the flavor that the rub gave to the chicken and the softened  peppers and onions in the balsamic sauce was really delicious served on top of the tender chicken.  I served this dish with the Grilled Vegetable Panzanella for a hearty, healthy, and seriously tasty meal.
Preheat oven to 450 degrees.
Heat a large OVEN PROOF skillet coated in cooking spray and 1/2 tablespoon of olive oil over medium-high heat. Combine the  fennel seeds, garlic powder, oregano, and sea salt & freshly cracked pepper, to taste in a small dish and mix well.  Sprinkle spice rub evenly over both sides of the chicken.  Add chicken to the hot skillet and cook for 3 minutes or until browned. Turn chicken over; then place into the oven for 20 minutes, or until the chicken has cooked through. Remove the chicken to a serving plate and cover with a tin foil tent.
Add the remaining olive oil over medium-high heat in the same skillet. Add bell peppers and onion; sauté 3 minutes. Stir in broth, scraping pan to loosen browned bits. Reduce heat; simmer 5 minutes. Increase heat to medium-high. Stir in vinegar then season with sea salt and freshly cracked pepper, to taste; cook 3 minutes, stirring frequently. Serve bell pepper mixture and sauce over chicken. Enjoy!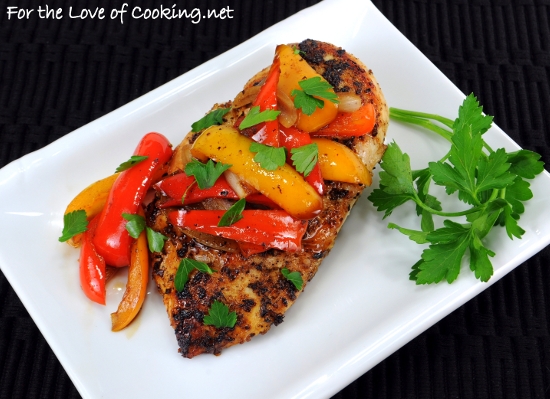 GIVEAWAY – CLOSED – WINNER CHOSEN: 
The generous people who sent me my newest cookbook, MyRecipes America's Favorite Food, also sent me another one to give to one of  my readers. There are 200 top-rated recipes from the country's best Magazines in this cookbook.  It also has an exclusive Scan-It/Cook-It™ feature that lets readers access helpful multimedia content – including how-to videos, professional cooking tips, meal planners and more –directly from the printed page via smartphone devices. Every photograph in the book (more than 130 in total) is scan-able and links to more online features. It's a fantastic cookbook filled with delectable photos and great recipes.
Just leave a comment on this post to enter to win this cookbook.  The giveaway is open until Sunday, December 9, 2012 @ 7:30 p.m. This giveaway is only open to USA  and Canada residents. Winner will be chosen randomly and announced on Sunday night. I will email the winner and if the winner does not respond within 48 hours, a new winner will be chosen.
Good Luck!