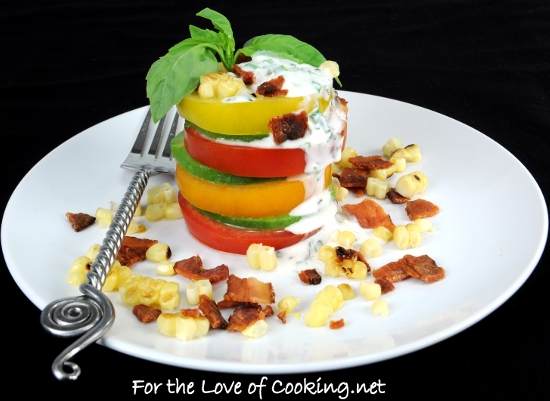 I saw this recipe in the August 2012 issue of Cooking Light and couldn't wait to make it.  What could be better than a salad with tomatoes, corn, bacon, avocado, and creamy ranch dressing?  This salad was simple to make and it was a huge hit with all of us.  I loved the presentation and the flavor combination was outstanding!  This tomato stack was elegant and delicious and I look forward to making it again the next time we have company over for dinner.
Make the Creamy Buttermilk Ranch Dressing.  Click here for the recipe.
Heat a grill pan over medium heat.  Coat the corn with cooking spray then place into the grill pan and cook for 8 minutes or until well marked, turning occasionally.  Remove from the grill pan; cool slightly.  Cut the corn kernels from the cobs; set aside.
Slice the tomatoes and sprinkle them with salt and freshly cracked pepper, to taste.  Alternate layers of tomatoes and avocado on the serving plates.  Side Note:  I used two slices of the avocado together to make an even layer in between the tomatoes. Scatter the corn and bacon crumbles evenly between each tomato stack.  Drizzle each tomato stack with the ranch dressing and garnish with basil leaves.  Serve immediately.  Enjoy.