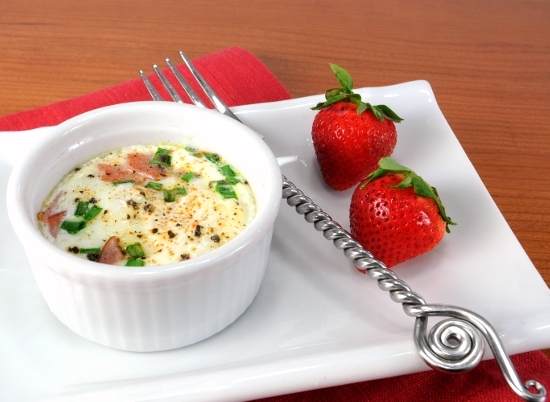 I was craving eggs for breakfast so I looked in the refrigerator to see what I could use to make baked eggs.  I found a little snack plate with leftover cheddar cheese and sliced ham that my kids didn't finish for lunch and I also had some fresh chives that needed to be used up.  Baked eggs are simple and quick to make and the ingredient combinations are endless.  My husband and I thought these baked eggs turned out flavorful and delicious.
Preheat the oven to 350 degrees.  Coat a small ramekin with cooking spray.
Place most of the ham into the ramekin along with half of the cheese and some of the chives.  Crack an egg into the ramekin, being careful not to break the yolk. Add the milk and remaining ham, cheese, and chives to the top.  Season with sea salt and freshly cracked pepper, to taste and a dash of cayenne.
Place onto a baking tray and cook for 5 minutes; Turn the oven to broil and cook for another 4-5 minutes or until the whites are set but the yolk remains soft. Remove from the oven and serve immediately. Enjoy.