Mixed Berry, Banana, and Yogurt Smoothie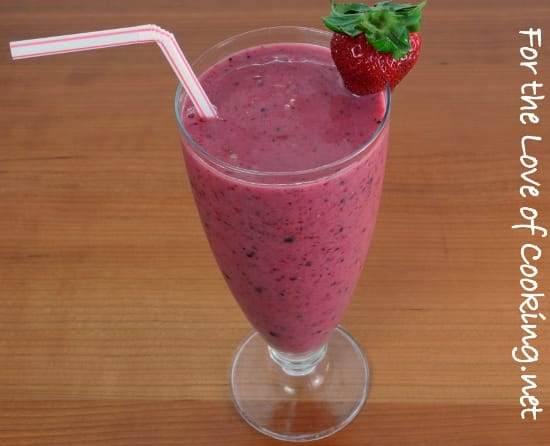 It was 80 degrees here in Portland today – can you believe it?  After all the rain we've been having it was wonderful to have a warm and sunny day!  I made these smoothies for my kids' after school snack.  It was a great way to use up the bananas that were extra ripe.  It was also a super healthy treat and it cooled my hot kids right down.  A delicious smoothie always tastes good after a long day of school!   The kids happily gobbled down their drinks before we headed to the creek to play in the mud.  Good times!
Place the strawberries, bananas, frozen mixed berries, ice, honey, and yogurt into a large container.  Blend the mixture using an immersion blender until creamy and smooth.  Serve with a strawberry garnish and a straw.  Enjoy! If you don't have an immersion blender a regular blender or food processor would work great too.