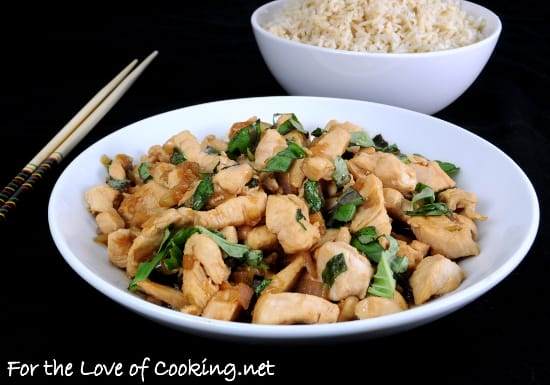 I found this tasty recipe in the April 2012 issue of Cooking Light and I am so glad I made it. Not only was it super quick and simple to make, it tasted fantastic too. I served this dish with brown rice for a healthy and delicious meal. I added more sriracha sauce to my husband and my portion for an extra spicy kick and we loved it! I think my favorite part of the dish was the fresh basil – it tasted so good with the spicy chicken. We all, kids included, loved this recipe.
Heat the canola oil in a large skillet over medium high heat.  Add shallots to the pan; cook for 30 seconds or until fragrant. Add the chicken to the pan; cook for 7-8 minutes, stirring often, until cooked through.  Add the minced garlic and cook, stirring constantly, for 1 minute.
Combine the fish sauce, sugar, soy sauce, sriracha, water, and cornstarch together, stirring with a whisk.  Add the mixture to the chicken, and cook for 1 minute or until the mixture thickens, stirring to coat chicken.  Remove from heat then add the fresh basil.  Serve immediately.  Enjoy.