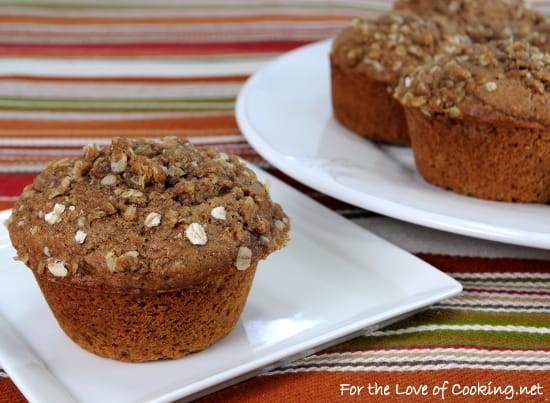 My kids ran laps in their gym to raise money for their school today.  They both did around 50 laps each and they were tired but very proud of themselves when I picked them up from school today.     To celebrate their great lap running  we made homemade spiced apple cider muffins with streusel topping from a recipe I found on Eating Well.  They were a snap to make and they smelled amazing while they baked in the oven.  My kids gobbled them up in seconds and wanted more.  Needless to say these muffins were a big hit and won't last long in this house.
Preheat the oven to 400 degrees.  Coat a muffin tin with cooking spray.
To make the streusel, combine the flour, oats, cinnamon, and butter together with your fingers until crumbly.  Set aside.
Combine the flours, baking powder, baking soda, salt, cinnamon, nutmeg, and clove together in a bowl until well mixed.
In another bowl, whisk the brown sugar with the egg until well combined.  Add the apple butter, maple syrup, apple cider, and yogurt then mix well.  Slowly add the flour mixture to the egg mixture; gently stir until JUST combined.  Don't over mix.
Spoon the batter equally into the muffin tray.  Sprinkle the streusel evenly over the top of each muffin.
Place the tray into the oven and bake for 15-17 minutes; or until a tester inserted into the center comes out clean.  Remove from the oven and let cool for a few minutes before moving them to a rack to cool further.  Serve slathered in butter.  Enjoy.