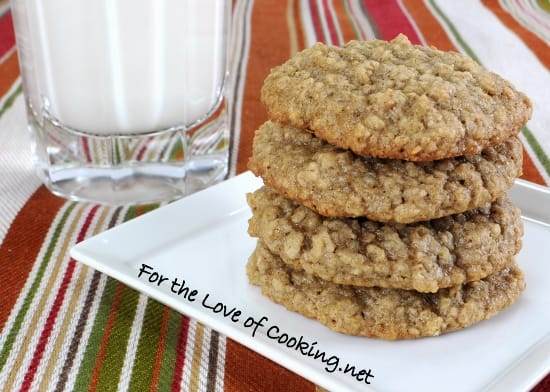 My kids have had a tough month this month.  They both have had walking pneumonia, high fevers, terrible coughs, and my son also had the stomach flu.  Poor things!  I decided to make some cookies because what makes a kid smile faster than a cookie?  I found this recipe on Martha Stewart and knew they would be delicious.  The kids came home from a cold rainy day of school to these warm and delicious maple-cinnamon oatmeal cookies.  They were beyond pleased and loved every last bite of their sweet treat. My husband really likes the cookies too.
Preheat the oven to 350 degrees.  Line a baking sheet with a silpat mat.
Combine the oats, flour, salt, baking soda, and cinnamon together in a small bowl.  In a large bowl, using an electric mixer, beat butter and sugars on high until pale and fluffy.  Add the maple syrup, egg, and vanilla extract to the mixture and beat, scraping the side of the bowl as needed.  Add the oat mixture and stir until just combined.
My dough was quite sticky so I put it in the refrigerator for 10-15 minutes so it was easier to work with.  Drop dough by the teaspoon, 2 inches apart, onto the lined baking sheet.  Bake until the edges are golden, about 10-12 minutes.  Let the cookies cool on the baking sheet for a few minutes until set then move them to a wire rack to cool.  Serve with ice cold milk – enjoy!