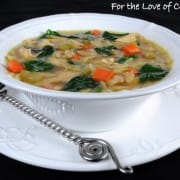 Print Recipe
Turkey and Orzo Soup with Spinach
4 hours (broth) 1 hour (soup)
Prepare the broth. Click on the link up above for broth recipe. Instead of a chicken carcass use the leftover turkey carcass. This step takes four hours for a good broth flavor.

Heat the olive oil in a large Dutch oven over medium heat. Add the onion, carrot, and celery; stir often for 2 minutes. Add the minced garlic and cook, stirring constantly, for 1 minute. Add the broth and leftover turkey then season with sea salt and freshly cracked pepper, to taste (if needed). Cover with a lid and let the soup simmer for 30-40 minutes, stirring occasionally.

Add the orzo and simmer for 15 minutes. Add the spinach right before serving. Taste and re-season if needed. Enjoy.