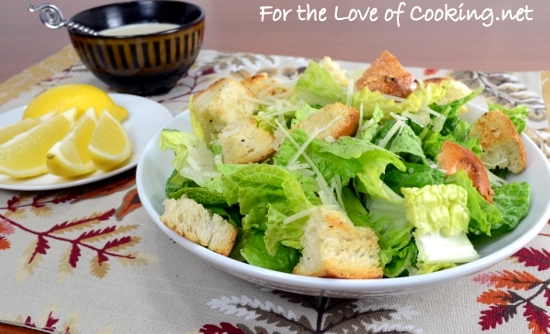 I was so excited about the Creamy Caesar Dressing that I couldn't wait to make a big Caesar salad to go with it. I used fresh crisp romaine lettuce, freshly grated Parmesan cheese, and homemade garlic croutons to make this salad extra delicious. I loved everything about this Caesar and look forward to featuring it more often in my house now that I have found a healthier version of the dressing.
Prepare the Creamy Caesar Dressing – click the link for recipe.
Preheat the oven to 350 degrees. Coat a baking sheet with cooking spray.
Cut the bread into small cubes. Drizzle the garlic olive oil all over the bread then add the minced garlic and season with sea salt and freshly cracked pepper, to taste. Toss to coat evenly with your fingers. Pour the croutons onto the baking sheet.  Place into the oven and bake for 15-20 minutes, or until crispy and golden brown. Cool and store in an airtight container until you use.
Place the romaine in a large salad bowl followed by the grated Parmesan and cooled garlic croutons. Drizzle with the creamy Caesar dressing and toss to coat evenly. Serve with extra lemon wedges, if desired. Enjoy.