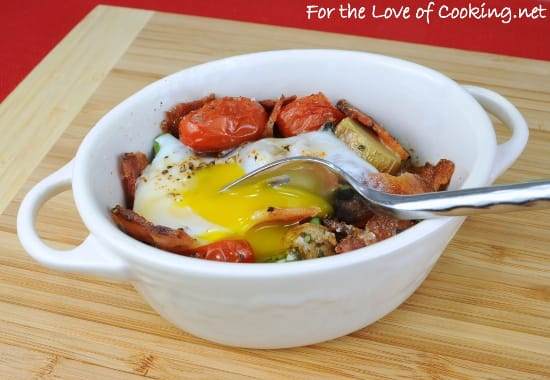 This is basically a "clean your fridge" kind of breakfast.  I was craving a baked egg but decided to make it a little more hearty but adding in the leftover Garlicky Roasted Potatoes with Herbs and some Roasted Asparagus and Tomatoes that I had in the refrigerator.  I cooked it in the oven for a few minutes then finished cooking it under the broiler.  The egg was cooked and tasted fantastic when mixed with the other ingredients.  It was a great way to use up leftovers and a healthy and delicious start my day.
Preheat the oven to 350 degrees. Coat a small ramekin with cooking spray.
Place the garlicky potatoes, roasted asparagus & tomatoes, and crumbled bacon into the ramekin; add the milk.
Crack an egg and place it on top then season with sea salt and freshly cracked pepper, to taste and a pinch of cayenne.
Place into the oven and bake for 5-6 minutes.  Change the oven to broil and cook, watching carefully, for 5 minutes or until the whites are set but the yolk is still soft.  Remove from the oven and serve immediately.  Enjoy.