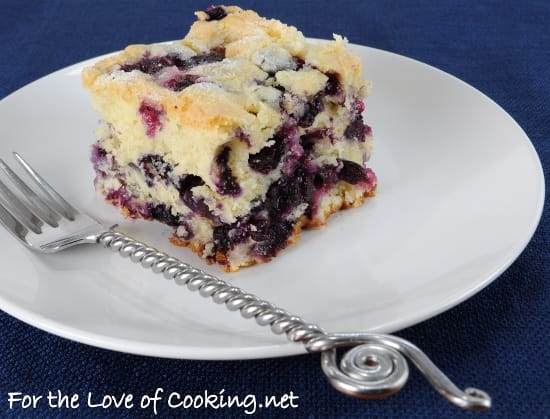 My son has been very sick and I wanted to make him something that would cheer him up and make him feel better.   I saw this breakfast cake on my friend Cathy's site, Wives with Knives, and knew immediately that this would make my son (and the rest of the family) VERY happy. I was right.    My entire house smelled amazing while this cake baked .  This breakfast cake was moist, bursting with sweet blueberries,  and  tasted so delicious.  My daughter said she especially loved the sugar coating on the top of the cake.  My son was definitely feeling a bit better after having this for breakfast – thanks Cathy!
Preheat the oven to 350 degrees.  Coat a 8×8 baking dish with cooking spray.
Cream the butter, sugar, and lemon zest together with a mixer until creamy & smooth.  Add the egg and vanilla and beat until combined.  Add  2 tablespoons of flour to the blueberries and toss to coat evenly.  Mix the remaining flour together with the baking powder and salt until well mixed.  Add the flour mixture to the butter mixture a little at a time alternating with the buttermilk.  Fold in the blueberries gently.  Spread batter into the pan evenly.  Sprinkle the 1 tablespoon of sugar evenly on top of the batter.  Side note: The batter will be very thick.
Place into the oven and bake for 45-50 minutes or until a tester inserted into the center of the cake comes out clean.  Let it cool for a few minutes before cutting and serving.  Enjoy!