Caprese Stuffed Roasted Portobellos
I recently grabbed some portobellos from the store in hopes that I would be inspired to do something with them. After looking through my refrigerator, I decided to stuff them with mozzarella, tomatoes, and basil then roast them. I drizzled some really good balsamic vinegar on top right before serving along with some extra basil. My husband and I both absolutely loved these mushrooms and totally wished I had made more. I will be buying more portobellos this week because I LOVED them.  Seriously, if you love caprese and mushrooms then TRY THIS RECIPE!
Preheat the oven to 400 degrees. Line a baking sheet with tin foil then coat it with cooking spray.
Slice the grape tomatoes into thirds and place into a bowl. Add a bit of olive oil, freshly chopped basil, minced garlic, sea salt, and freshly cracked pepper, to taste. Stir to coat evenly then set aside for flavors to mingle for a few minutes.
Remove the gills from the inside of the mushrooms with a spoon then rub a bit of olive oil on the inside and outside of each portobello. Season with sea salt and freshly cracked pepper, to taste. Sprinkle with the mozzarella cheese, to taste. Top each mushroom with the tomato mixture.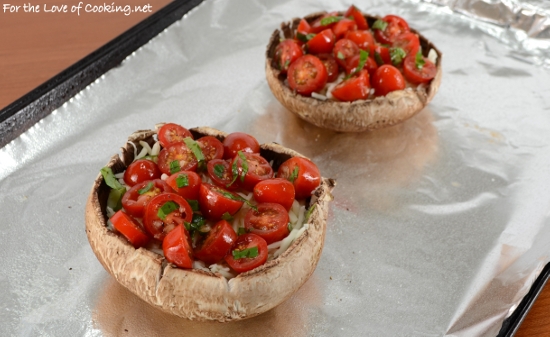 Place into the oven and roast for 15-20 minutes. Remove from the oven and let them cool for a few minutes. Place onto a serving plate then sprinkle with a bit more freshly chopped basil and some really good balsamic vinegar. Serve immediately. Enjoy.