Roasted Cauliflower with Fresh Herbs, Parmesan, and Lemon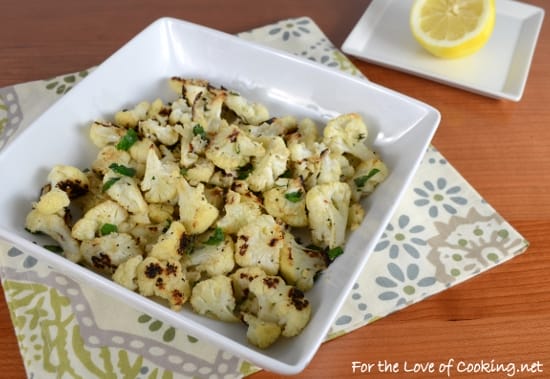 I can't believe it – I finally roasted cauliflower. I have to thank my dear friend Currié who had us over for dinner last week. She served us roasted cauliflower, which is a vegetable my husband has never liked, and he actually really enjoyed it! I decided to roast it this week with some olive oil, salt, pepper, crushed red pepper flakes, fresh parsley, fresh  thyme, and minced garlic then tossed it with grated Parmesan and lemon juice. The cauliflower was tender and so flavorful! We loved it. Thanks Currié!!
Preheat the oven to 425 degrees. Line a baking sheet with tin foil then coat it with cooking spray.
Cut the cauliflower into small same sized florets. Place the florets on the baking sheet then drizzle with olive oil,  sea salt, freshly cracked pepper, and crushed red pepper flakes, to taste. Toss to coat evenly. Place into the oven and roast for 10 minutes. Remove and flip with a spatula. Return to the oven for an additional 5 minutes then remove and toss with the fresh parsley, fresh thyme, and minced garlic; toss to coat evenly. Return to the oven for 5 minutes. Remove from the oven and drizzle with the lemon juice and grated parmesan. Toss to coat evenly then pour into a serving bowl. Serve immediately. Enjoy.