Lemon and Basil Spaghetti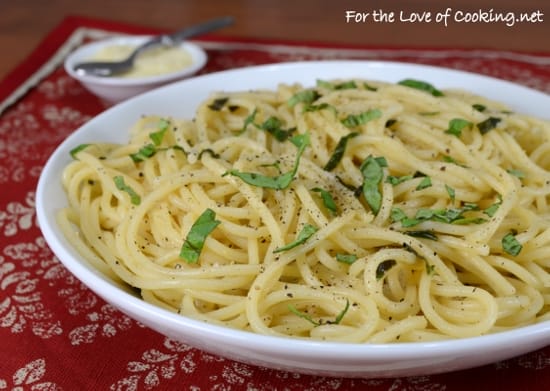 I wanted to serve a nice and light pasta to pair with the Chicken Thigh Piccata that I was making for dinner. I cooked up some simple spaghetti and drizzled it with fresh lemon juice and olive oil and tossed in some fresh basil then seasoned it with sea salt and freshly cracked pepper. I finished it by topping it with fresh parmesan cheese. It was light, delicious, and it paired perfectly with the chicken. I liked how quick and simple it was to make and that it made the dinner a little extra special. We all loved the pasta.
Heat a large pot of water until boiling. Season with the water well with sea salt then cook the pasta per instructions. Drain the pasta, reserving 1/4 cup of pasta water, then place into a serving bowl. Drizzle the pasta with the lemon juice,  olive oil, and freshly chopped basil then season well with sea salt and freshly cracked pepper, to taste; add a few tablespoons of reserved pasta water if needed.  Top with fresh Parmesan then serve immediately. Enjoy.