Roasted Brussel Sprouts with Garlic, Lemon, and Feta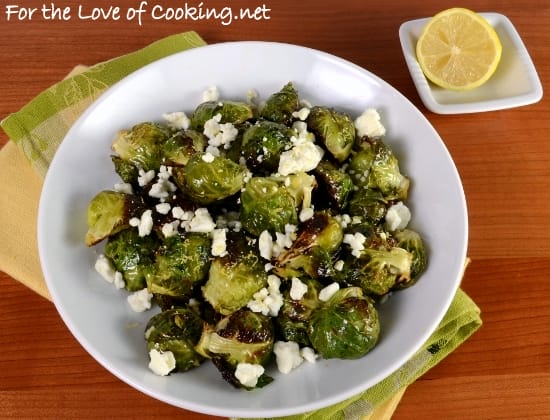 My first attempt at brussel sprouts was a big success with my entire family but my husband said he wanted to try it with lemon next time. I simply seasoned these fresh brussel sprout halves in olive oil, sea salt, and freshly cracked pepper, to taste then drizzled a bit of lemon juice on them before roasting. I then sautéed some garlic with olive oil then tossed the brussel sprouts in the pan and squeezed more lemon juice on top and tossed to coat evenly. Once they were in the serving bowl, I sprinkled the top with feta cheese. They turned out delicious and my husband and I both really liked them a lot, my kids on the other hand, were not fans. Oh well, you can't win them all.
Preheat the oven to 400 degrees. Line a baking sheet with tin foil then coat with cooking spray.
Zest the lemon; set aside.
Toss the brussel sprouts with 2-3 teaspoons of olive oil then season well with sea salt and freshly cracked pepper, to taste. Toss to coat evenly then place on the baking sheet. Squeeze one half of a lemon evenly over the sprouts. Place into the oven and bake for 10 minutes then flip the brussel sprouts and roast for an additional 10 minutes. Remove from the oven and set aside.
Heat a large skillet over medium heat with 2-3 teaspoons of olive oil. Add the minced garlic and dash of crushed red pepper flakes then cook, stirring constantly, for 1 minute. Add the brussel sprouts followed by the juice from the remaining half of the lemon. Toss to coat evenly. Pour into serving bowl. Sprinkle the top of the brussel sprouts with feta cheese and lemon zest. Serve immediately. Enjoy.