I had a sudden craving pop into my head the other day. I wanted a simple salad with roasted tomatoes, mozzarella pearls, homemade croutons, and pinenuts. I tossed it in Fran's Simple Vinaigrette right before serving. We all enjoyed the salad. The tomatoes were sweetly roasted and the little bites of mozzarella were creamy and delicious. The homemade croutons topped this salad off nicely along with the pine nuts and the vinaigrette. This salad paired really well with the Broccoli, Cheese, and Potato Soup.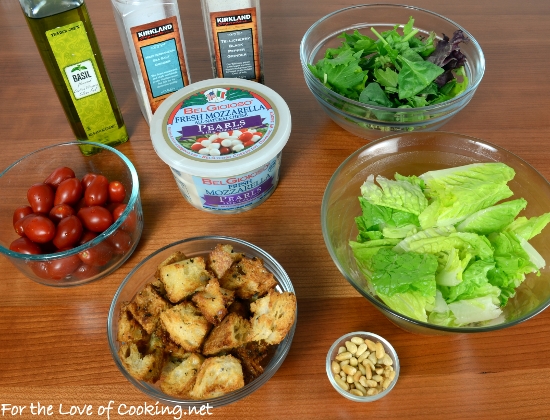 Prepare Fran's Simple Vinaigrette – find recipe here. Cover with a lid or saran wrap; set aside to allow flavors to mingle.
Prepare the Garlic and Herb Homemade Croutons – find recipe here. Set aside to cool.
Preheat the oven to 350 degrees. Coat a small baking dish with cooking spray.
Place the grape tomatoes into the baking dish. Drizzle with olive oil, and minced garlic then season with sea salt, and fresh cracked pepper, to taste. Toss to coat the tomatoes evenly.
Place into the oven and roast for 20-25 minutes. Remove from the oven and place them on a plate to cool.
Place the romaine lettuce and mixed greens into a serving bowl. Top with the cooled roasted tomatoes, mozzarella pearls, homemade croutons, and toasted pinenuts. Drizzle with the vinaigrette, to taste; mix well until evenly coated. Serve immediately. Enjoy.