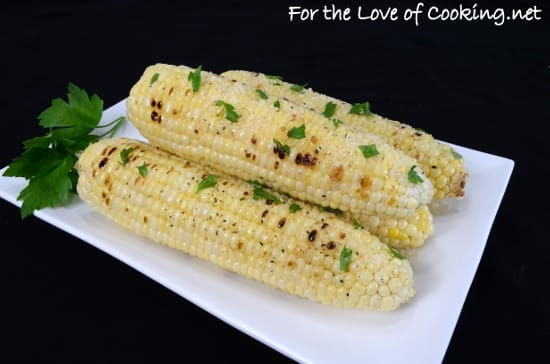 Attention RSS Subscribers:  On July 1, 2013 you won't see Google Reader anymore. They announced in March that it'll be killing off the RSS  feeds application.
There are only a few more days before Google Reader goes away. If you use Google Reader as your RSS feeds to get daily updates of For the Love of Cooking, I do not want to lose you as a subscriber!!  Please go to Feedly or BlogLovin' and switch your Google Reader before July 1st. As soon as you sign in to Feedly or BlogLovin', they'll ask you if you want to import your current Google Reader subscriptions, click YES and then everything is done for you. Super fast, super easy! You can also keep current on all new posts by For the Love of Cooking through Facebook, Twitter, Pinterest, and/or E-mail.
On with the recipe:
My son loves corn on the cob so I decided to make some recently to serve with dinner. I found a recipe on Eclectic Recipes that sounded tasty and easy to make. I grilled the corn then slathered it in garlic butter before sprinkling it with some Parmesan and parsley on top. The corn was so delicious – I can't wait to make it again. My daughter requested no Parmesan on her corn next time but the rest of us gobbled it right up. I served this corn on the cob with chicken and Sautéed Garlicky Kale with Onions, Pine Nuts, and Craisins for a delicious and hearty meal.
Preheat grill to 375 degrees. Remove the husks and silk from corn. Place the corn on the hot grill and cook until lightly charred on all sides, about 10-12 minutes. You can also cook this corn in your grill pan over medium high heat for about 12-14 minutes, making sure to turn to evenly cook all sides.
Combine the minced garlic and butter together in a small bowl. Melt butter in the microwave for 10 – 15 seconds, or until melted. Brush garlic butter over each piece of corn then sprinkle with Parmesan cheese and fresh parsley. Season with sea salt and freshly cracked pepper, to taste. Serve immediately. Enjoy.