Spicy Fire Roasted Salsa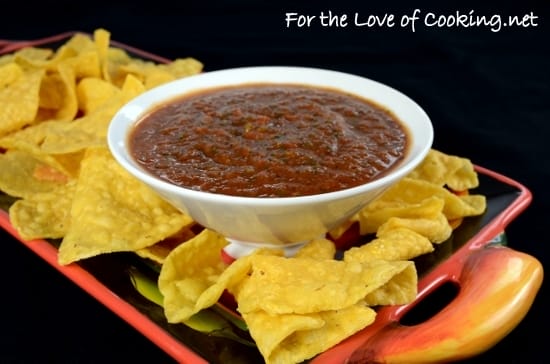 We had friends over for dinner and they requested Mexican food. I made this spicy salsa to serve with chips and the chicken tacos that I was making for dinner (recipe to follow). I started out using 1 jalapeno but it didn't have a strong enough spice (they turned out to be mild peppers) so I added another jalapeno. I loved the richness the roasted tomatoes gave to this salsa and I thought the tang from the lime was great. It was really flavorful and a big hit with us all, even the kids!
Pour the tomatoes into a large mixing bowl. Add the chopped cilantro, green onions, garlic, lime juice, and jalapeno. Toss in the cumin and oregano then season with sea salt and freshly cracked pepper, to taste. Blend using an immersion blender until thoroughly combined. Taste then add more jalapeno or seasoning if needed. Cover and set aside for at least 30-60 minutes for flavors to mingle. Serve with chips, tacos, tostadas, eggs, or any of your favorite Mexican dishes. Enjoy.