Lemon-Garlic Kale Sauté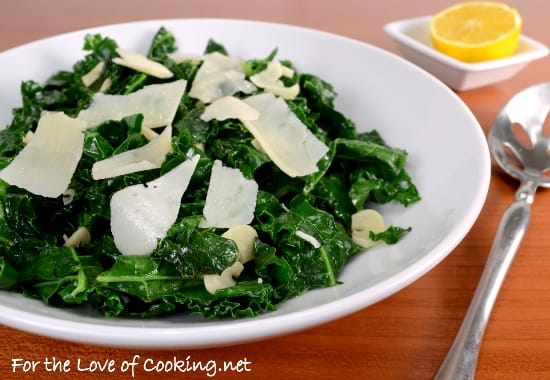 I wanted to make a healthy and easy side dish to go along with the chicken I was making. I decided to sauté some kale with some olive oil, garlic slices, crushed red pepper, and lemon juice. It took only minutes to make and tasted wonderful! I really loved how the lemon brightened up the flavor of the kale. My kids didn't love this side dish but my husband and I did.
Heat the olive oil in a large skillet over medium heat. Add the thinly sliced garlic; sauté for 1 minute, stirring constantly. Add the kale to the skillet along with 2 tablespoons of water. Cook, stirring often for 2-3 minutes. Season with crushed red pepper, sea salt, and freshly cracked pepper, to taste. Stir in the lemon juice and toss to coat evenly before spooning the kale into a serving dish. Top with shaved Parmesan cheese.  Serve immediately. Enjoy.