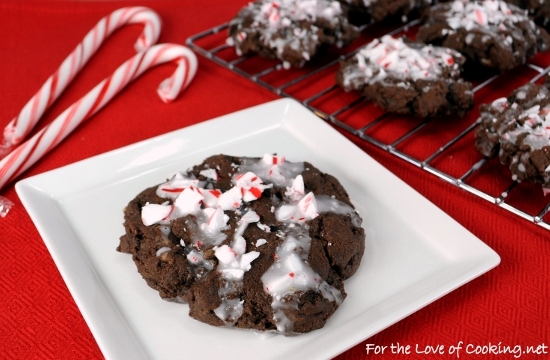 My daughter didn't want a cake or cupcakes for her 10th birthday. Instead she wanted chocolate and peppermint cookies. I found this recipe on Tasty Kitchen that looked perfect. The house smelled amazing while these cookies baked and they put a huge smile on the birthday girl's face.  The peppermint frosting and candy cane crumbles made these chocolate cookies extra special. They turned out rich and decadent which is perfect for my chocolate loving daughter who absolutely LOVED them. Happy birthday to the sweetest girl I know. I am so thankful and proud to be your mom.  xoxo
Preheat the oven to 350 degrees. Line a baking sheet with a silpat mat.
Combine the flour, cocoa powder, baking soda and salt together in a small bowl – mix well.
Using a mixer, beat the butter and sugars together until creamy and smooth. Add the egg, vanilla, and peppermint extract and mix well with beater. Slowly add the flour mixture to the butter mixture until combined. Add the chocolate chips and the pieces of crushed candy cane; mix until combined.
Place teaspoons of dough on the baking sheet about 2 inches apart. Press the cookies with the back of the spatula to flatten them a bit. Place into the oven and bake 7-8 minutes; remove from the oven and let them cool for a few minutes before moving them to a wire rack.
Make the glaze by combining the powdered sugar, peppermint extract, and milk; mix until well combined. Drizzle the frosting over the cookies on the wire rack. Side Note: Place wax paper or a paper towel down under the rack for a quicker clean up. Sprinkled the crushed candy cane over the top of each cookie before the frosting sets. Enjoy!