We had friends over to watch the election coverage and we had a smorgasbord of  appetizers to munch on through the night.  I made this crab and artichoke dip and served it with crostini. It took only a few minutes to make and tasted fantastic.  This dip had a great combination of flavors and textures – cheesy, creamy, salty, and delicious.
Preheat the oven to 400 degrees.  Coat a baking dish with cooking spray.
Add the crab, chopped artichoke hearts, cheddar cheese, Parmesan cheese, sour cream, mayonnaise, lemon juice, parsley, and minced garlic together in a bowl.  Season with sea salt and freshly cracked pepper, to taste.  Pour into the prepared baking dish.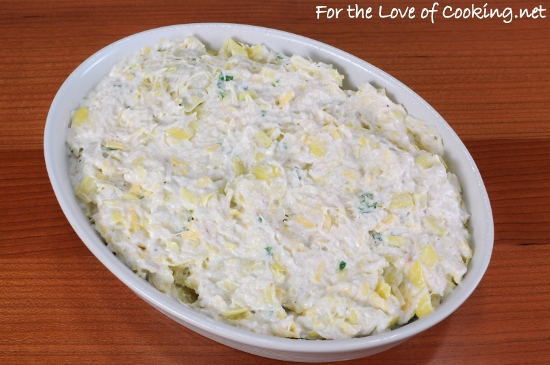 Place into the oven and bake for 20-25 minutes or until golden on the top.  Serve with crostini, crackers, or tortilla chips.  Enjoy.