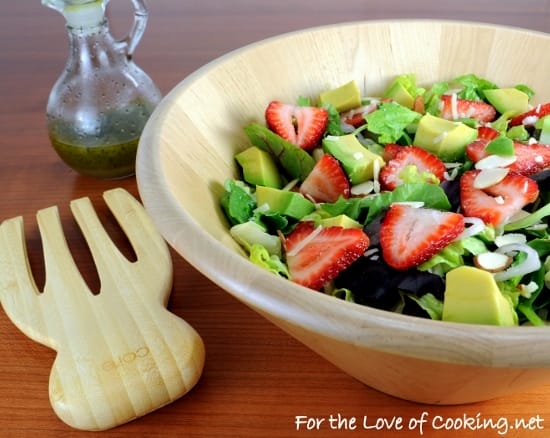 I loved every single thing about this beautiful salad.  I was surprised to find that I enjoyed the combination of creamy avocado with sweet strawberries – they were wonderful together. The almonds gave the salad a nice crunch and the Parmesan gave it a great salty flavor. I loved the honey maple poppy seed vinaigrette that I found on Barefeet in the Kitchen… it was AMAZING – thanks Mary!!  I used baby spinach, mixed greens, and romaine to make this salad extra tasty. I used  The Village Press olive oil that was recently sent to me and I really liked it.  The oil is very flavorful and delicious – it made the vinaigrette really fantastic. My husband, myself, and our friends loved the salad and the kids gobbled it all up too. I paired this dish with Razor Clams and a delicious pasta salad that will post soon.
Combine the canola oil, olive oil, maple syrup, honey, Dijon mustard, fresh lemon juice & zest, white balsamic vinegar, sea salt and freshly cracked pepper, to taste, and the poppy seeds together in a small bowl; whisk until well combined.  Set aside for flavors to mingle for 20-30 minutes.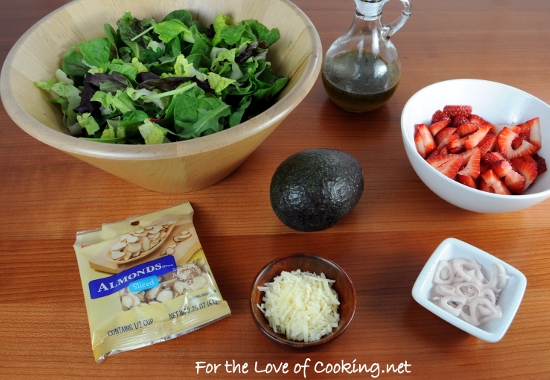 Combine the baby spinach, spring greens, and romaine lettuce together in a large bowl.  Layer the salad with sliced strawberries, diced avocado, sliced shallots, sliced almonds, and shredded Parmesan.  Drizzle the top with the vinaigrette and toss until evenly coated.  Serve immediately.  Enjoy.