Lemon Basil Vinaigrette
I wanted to serve a light salad to pair with the Summer Veggies with Pasta and Shrimp so I decided to do a simple spinach salad with a tasty vinaigrette.  I found this recipe at Tiny Green Mom that looked perfect.  I tossed this light and tangy vinaigrette with spinach, tomatoes, bell pepper, red onion, toasted pine nuts, and Parmesan cheese for a delicious and beautiful salad that we all loved.  If you like lemon and basil then try this vinaigrette!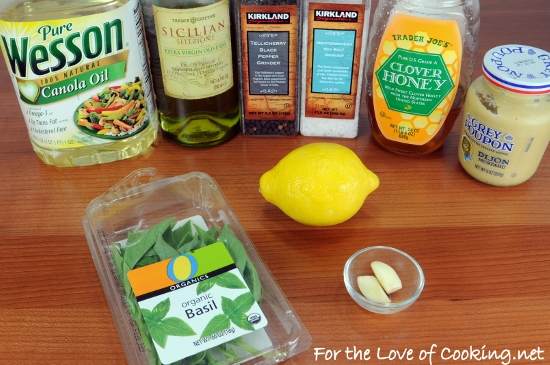 Combine the chopped basil, canola oil, olive oil, lemon juice, mustard, honey, garlic, sea salt and freshly cracked pepper, to taste in a shallow dish.  Blend the mixture with an immersion blender until well combined.  Drizzle over your favorite salad ingredients and toss to coat evenly.  Serve immediately.  Enjoy.