I have a confession to make – sea salt and vinegar chips are one of my biggest weaknesses… they are so tangy, salty, crunchy, and addictive!  I decided to roast some teeny tiny potatoes then toss them with sea salt and malt vinegar.  They were creamy on the inside and tangy and salty on the outside – they were so delicious!  I literally could have eaten just these potatoes for dinner and I would have been perfectly satisfied.  I served this tasty side dish with the Mustard and Garlic Spatchcocked Chicken and the Garlicky Asparagus with a Splash of Lemon.
Preheat the oven to 425 degrees.
Boil the baby potatoes in a pot of water for 5-7 minutes.  Remove from the water and place onto a baking dish that has been coated with cooking spray.  Drizzle the potatoes with olive oil then season with a bit of sea salt and freshly cracked pepper, to taste.   Place the baking dish into the oven and roast for 15-20 minutes, or until golden brown and fork tender.
Remove from the oven and toss the potatoes with malt vinegar, to taste and add a bit more sea salt, to taste.  Toss until evenly coated then serve immediately.  Enjoy.
GIVEAWAY CLOSED:  **Winner Announced**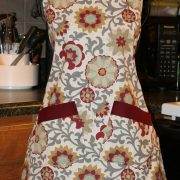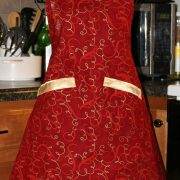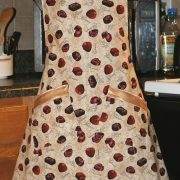 Spicy Aprons is giving one of my readers an apron of their choice that is worth $29.99 or less. There are several aprons to choose from so check out the Etsy page to see all of the amazing creations.  I can't begin to tell you how much I adore these aprons!  I love all of the different fabrics, lengths, and styles they come in.  They are just so cute!
All you have to do to enter the giveaway is comment on this post. The giveaway ends on April 15, 2012  at 7:00 pm Pacific Time.
If any of my readers would like to buy an apron (or 2) from Spicy Aprons, you can get free shipping if you put in the code: free4u.