Balsamic Green Beans with Red Onions and Shallots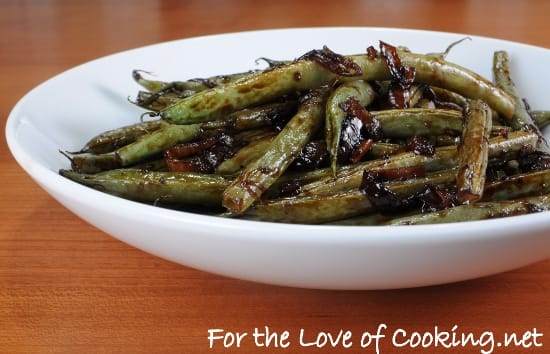 I served this side dish that I found in the January/February 2012 Cooking Light issue with the Chicken Cacciatore I made recently.  The beans had a nice tangy flavor and the onions and shallots melted in my mouth.  I was the only one in my family that liked them so I enjoyed the remaining green beans today with my lunch.  My kids said they liked the flavor of the sauce but didn't like the green beans and my husband said it just wasn't his favorite.  I LOVED these beans so I decided to post the recipe even without the rest of my family's approval.  If you like green beans and balsamic vinegar – give this tasty side dish a try.
Heat a teaspoon of olive oil in a skillet over medium heat.  Add the onions and shallots then cook for 6 minutes, stirring often, or until softened.  Add the garlic then sauté, stirring constantly, for 1 minute.  Add the beef broth; cook for 4 minutes or until the onions are really tender and the liquid almost evaporates.  Add the green beans and vinegar; cover and cook for 4 minutes or until the beans are crisp-tender.  Remove from heat and stir in 1 tsp of butter then season with sea salt and freshly cracked pepper, to taste.  Enjoy.