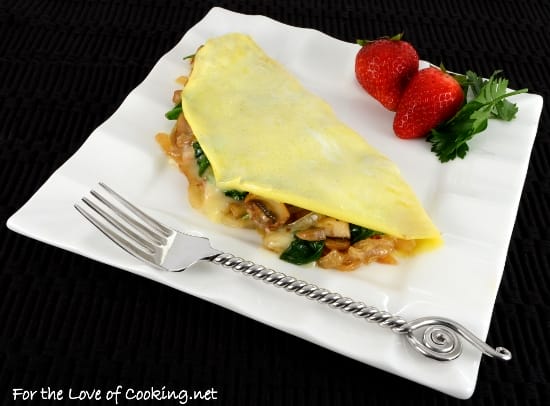 Do you ever create a recipe simply because you are craving something? While at the gym this morning, all I could think about is caramelized onions. Seriously. When I got home, I decided to make a thin (1 egg) omelet with caramelized onions, sautéed mushrooms, spinach, and a bit of the leftover ham and brie from the Brie, Ham, and Spicy Mango Jelly Grilled Cheese Sandwiches I made on Sunday. Although, it took 25 minutes to cook the onion, it was well worth the wait. The sweetened caramelized onions made a nice base for the extra thin omelet and the mushrooms, ham, and spinach made the omelet hearty. I loved the creamy melted brie over everything – it made this lunch extra delicious.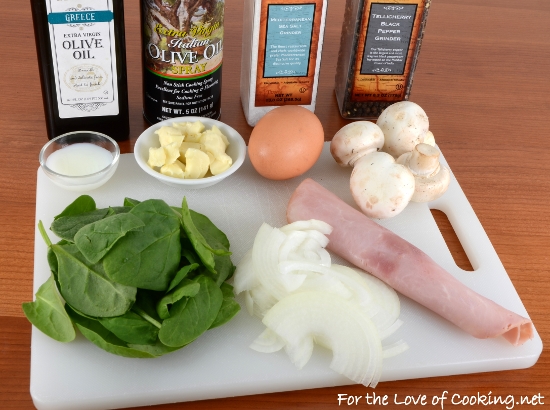 Heat two teaspoons of olive oil in a sauté pan over medium heat. Add the sliced onion and cook, stirring occasionally, for 25-30 minutes, or until golden brown. Season with sea salt and freshly cracked pepper, to taste. Side Note: If the onion starts to get dry, add a little bit of water to moisten them up. You can also add more olive oil if you prefer.
Remove the caramelized onions from the sauté pan; set aside. Add the last teaspoon of olive oil over medium heat then add the mushrooms once the pan is hot. Cook, stirring occasionally, for 2-3 minutes until tender. Add the ham and spinach to the skillet and continue cooking for 1 minute. Season with sea salt and freshly cracked pepper, to taste. Remove from the skillet and set aside for later use.
Heat a non-stick pan over medium low heat then spray it with cooking spray. Turn the broiler on in your oven. Crack one or two eggs into a bowl, add the milk, and whisk until well blended; season with sea salt and freshly cracked pepper, to taste. Pour the egg mixture into the skillet and swirl so the pan is evenly coated with egg.
Once your egg is starting to set, spoon on the caramelized onions and mushroom filling then top with the brie cheese.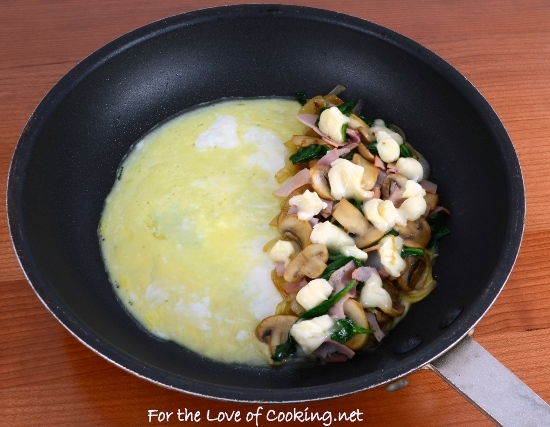 Move the skillet to the oven and place on the top rack (don't put the handle in the oven if it's not oven safe) and let the broiler cook the top part of the egg, it takes only 20-30 seconds or so. Remove the pan and flip the other part of the egg mixture on top of the veggie mixture. Slide onto a plate and serve immediately. Enjoy.
Thin Omelet with Caramelized Onions, Sautéed Mushrooms, Ham, Spinach, and Brie

Yield: 1

Ingredients:

2-3 tsp olive oil, divided
1/2 small yellow onion, sliced thinly
4-5 mushrooms, sliced
1-2 eggs (I used one for mine)
1/2 tbsp milk
Sea salt and freshly cracked pepper, to taste
1 slice of ham, diced
Handful of baby spinach
1-2 tbsp brie cheese, chopped

Directions:

Heat two teaspoons of olive oil in a sauté pan over medium heat. Add the sliced onion and cook, stirring occasionally, for 25-30 minutes, or until golden brown. Season with sea salt and freshly cracked pepper, to taste. Side Note: If the onion starts to get dry, add a little bit of water to moisten them up. You can also add more olive oil if you prefer.

Remove the caramelized onions from the sauté pan; set aside. Add the last teaspoon of olive oil over medium heat then add the mushrooms once the pan is hot. Cook, stirring occasionally, for 2-3 minutes until tender. Add the ham and spinach to the skillet and continue cooking for 1 minute. Season with sea salt and freshly cracked pepper, to taste. Remove from the skillet and set aside for later use.

Heat a non-stick pan over medium low heat then spray it with cooking spray. Turn the broiler on in your oven. Crack one or two eggs into a bowl, add the milk, and whisk until well blended; season with sea salt and freshly cracked pepper, to taste. Pour the egg mixture into the skillet and swirl so the pan is evenly coated with egg.

Once your egg is starting to set, spoon on the caramelized onions and mushroom filling then top with the brie cheese.

Move the skillet to the oven and place on the top rack (don't put the handle in the oven if it's not oven safe) and let the broiler cook the top part of the egg, it takes only 20-30 seconds or so. Remove the pan and flip the other part of the egg mixture on top of the veggie mixture. Slide onto a plate and serve immediately. Enjoy.

Recipe and photos by For the Love of Cooking.net